By Lotta Haglund | Published: 2021-10-22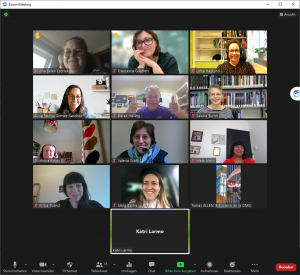 On Thursday 21 October a group of Chairs and Secretaries from various EAHIL SIG:s got together on Zoom. The meeting was initiated by Alicia Fatima Gomez Sanchez, and was originally planned to take place at the Lodz conference. The aim of the inter-SIG meeting was to share good ideas on how to work successfully in a SIG, and to discuss common challenges.
At the meeting participants shared their expectations, ideas and concerns regarding SIG activities. We identified two common challeges; first of all having a large number of SIG members, but only a handful who are active. The second challenge is meetings. Usually the SIG:s meet at the yearly event, which gives members a lot of energy and generates ideas and aims for the upcoming year. Then everyone goes back to their day job, and time for SIG work is very limited.
The meeting was summarised in short notes, and we agreed to work collaboratively on the notes to take the discussion further.