Council member Gaétan Kerdelhué
By Petra Wallgren Björk | Published: 2016-01-22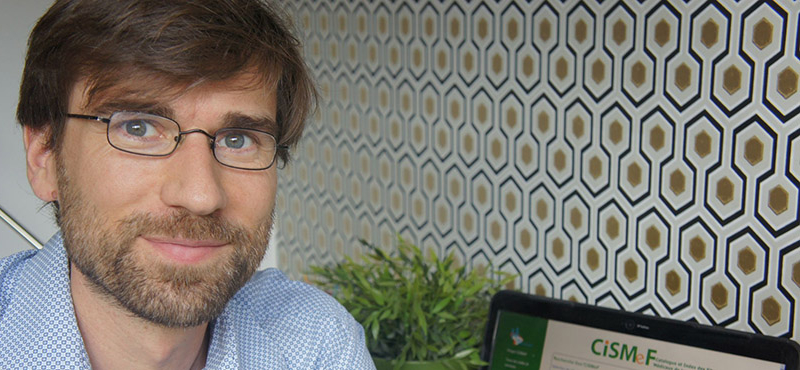 Hi council member for France, Gaétan Kerdelhué, why should one get involved as a council member for EAHIL?
It's one more opportunity to take part in the democratic life of EAHIL. It's also a support for promoting the association in your country.
What are the benefits of engaging in EAHIL?
EAHIL, mostly through the conferences and workshops, is a unique chance to meet health librarians from Europe (and even from all over the world). Even if our work contexts are sometimes different, we have much in common and share many professional concerns.
It's an occasion to step back from day-to-day activities, to think about your practice and to improve it by learning from the others through their articles, presentations or feedbacks. In my experience, the best discussions may also happen during a bus ride or late over a drink.
What do you do in your work?
My library is part of a Research team which develops specific tools so I get to populate a database of online French language resources using the MeSH thesaurus. I also support our research activities by doing bibliographic searches for our publications, sometimes even co-authoring articles. I am also helping with the management of one of our current Research project.
I am also in charge of training our users. So I regularly teach about the principles of bibliographic search, the use of databases and bibliographic management tools. Sometimes all of that in two hours only!
What do you like to do in your free time?
I was curious about MOOCs so I tried two very different ones, one about Statistics and one about comic books. I didn't want it to take too much time so I just listened to the courses and skipped most of the exercises. Despite this, it was a very good experience and I learned a lot of things. I will take a new one and try to be certified this time.
——————————————————————————————————
Quelles sont les raisons de devenir membre du conseil d'EAHIL ?
C'est une occasion supplémentaire de participer à la vie démocratique d'EAHIL. C'est aussi un soutien pour promouvoir l'association dans son pays.
Qu'apporte la participation à EAHIL ?
EAHIL, principalement grâce aux conférences et aux ateliers, donne l'opportunité unique de rencontrer des bibliothécaires du domaine de la santé de toute l'Europe et même du monde entier. Bien que nos contextes de travail soient parfois différents, nous avons beaucoup en commun et partageons beaucoup de préoccupations professionnelles.
C'est l'occasion de s'éloigner des activités quotidiennes, de réfléchir à sa pratique et de l'améliorer en apprenant des autres grâce à leurs articles, leurs présentations et leurs retours. D'après mon expérience, les meilleures discussions peuvent aussi se produire pendant un trajet en bus ou tard autour d'un verre.
Que fais-tu à ton travail ?
Ma bibliothèque fait partie d'une équipe de Recherche qui développe des outils spécifiques pour laquelle je dois alimenter une base de données de ressources francophones en ligne à l'aide du thésaurus MeSH. Je soutiens aussi nos activités de recherche en faisant des recherches bibliographiques pour nos publications, parfois même en étant co-auteur de certains articles. J'aide aussi à la gestion d'un de nos projets de recherche en cours.
Je suis également en charge de la formation de nos utilisateurs. J'enseigne régulièrement les principes de la recherche documentaire, l'utilisation des bases de données et des outils de gestion bibliographiques. Parfois tout cela en seulement deux heures !
Qu'aimes-tu faire durant ton temps libre ?
J'étais curieux des MOOCs alors j'en ai essayé deux très différents, un à propos des statistiques, l'autre à propos de la bande dessinée. Je ne voulais pas que cela me prenne trop de temps alors j'ai juste écouté les cours sans faire la plupart des exercices. Malgré cela, c'était une très bonne expérience et j'ai appris énormément de choses. Je vais m'inscrire à nouveau et essayer d'être certifié cette fois-ci.