2018 Best oral & poster prize winners
By Petra Wallgren Björk | Published: 2018-07-15
Many congratulations to the prize-winners at EAHIL 2018 in Cardiff!
Best Poster presentation by a first-time attendee:
Usability testing of our library's new website revealed interesting insights into customers' search behaviour.
By Sabine Klein, Andreas Bigger, Nenad Milosevic, Nadine Seekirchner, Christine Verhoustraeten and Adrian Funk
Best Poster presentation overall:
Identifying a potential for comprehensive literature review service at the Institute of Oncology Ljubljana, Slovenia
By David Ožura
Best Oral presentation by a first-time attendee:
Quality and reporting of literature search strategies in systematic reviews published by London School of Hygiene & Tropical Medicine affiliated authors: an assessment using PRISMA, AMSTAR and PRESS criteria.
By Jane Falconer and Kim Coles
Best Oral presentation:
Personalized user training with card sorting in a corporate environment: "Make sure you have the right information sources that you need in your work"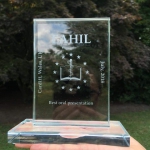 By Anna Kahilainen and Seija Bergman
The prize winners receive a Bohemian crystal trophy from Poděbrady — thanks to our Czech members Helena Boužkova and Ondřej Horsák for organising the awards.
The prize winners also receive a free registration, sponsored by the EAHIL Board, to attend an EAHIL event in the next two years.