Board of JEAHIL, summer meeting
By Petra Wallgren Björk | Published: 2021-06-28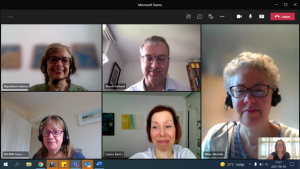 The board of JEAHIL had its summer meeting online (of course), this morning. We discussed a number of things for example the themes for future issues (2022).
Our brilliant Editor in Chief, Federica Napolitani is stepping down and now the work begins to find her successor. She has done such a great work turning the journal from a newsletter to a scientific journal during her more than 10 years in the position.
The board consists of: Federica Napolitani (Italy), Gerhard Bissels (Switzerland), Fiona Brown (Scotland), Katri Larmo (Finland), Michelle Wake (England) and Petra Björk (Sweden).