By Petra Wallgren Björk | Published: 2021-05-10
As far as former president Maurella Della Seta can remember, ever since she started working as a medical information specialist in 1985, she have always been involved in EAHIL's business.
Below, is Maurella´s thoughts of her experiences with EAHIL: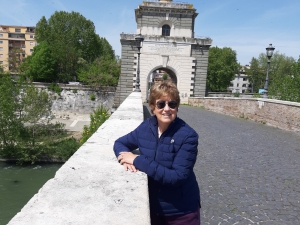 "The first time I heard of the intention to create a European association of medical librarians was in 1986. I remember helping my older colleagues organize the Brussels conference in 1986, using an email prototype.
This was perhaps the first time that I experienced the special climate of cooperation that is the essence of EAHIL: people from different countries working together on a volunteer basis, just because they believe it is important to connect with each other.
EAHIL was born in 1987, together with my first daughter, and since then I have always participated in most of the events and activities of our association. My first presentation was in Oslo, in 1994, at the fourth EAHIL conference. It was a great challenge to present the document delivery activities of Italian medical libraries: but unforgettable were the social moments, including a dinner of prawns and strawberries on a boat sailing in the Oslo fjord.
I also have a special memory of the 10th EAHIL Conference in Cluj Napoca (Romania), 2006. As an a IPC member I had the opportunity of visiting Cluj in March (midwinter, lot of snow and -10 degrees) and in September, summer, good weather and lot of outdoor social events. Thanks to the efforts of Sally Wood-Lamont and of all the Romanian colleagues, we had the opportunity to explore a region (Transilvania) that is unusual for tourists, but which offers plenty of natural beauty and cultural life. We visited Dracula castle and had a wonderful opera show at the Cluj National Theatre.
During the time I served as EAHIL President (2017-2020), I was impressed by the high spirit of service of all the Colleagues on the Executive Board. They never missed a meeting and responded to tons of emails timely, even though they were busy with their work.
Having different views on many issues was an opportunity rather than an obstacle, and we have always managed to reach an agreement that met all expectations.
As the President of EAHIL, I was invited to present our association in Europe (Oldenburg, Germany), Taiwan and China (Changchun). This gave me a great opportunity to get to know different working realities, to meet international colleagues, and, finally, to visit beautiful countries."