EAHIL 2020 conference: Łódź, Poland
By Petra Wallgren Björk | Published: 2018-07-22
We are delighted to announce that the EAHIL conference in 2020 will take place in Łódź, Poland.
The Local Organising Committee are based in the Information and Library Center of the host institution, the Medical University of Łódź, FUMED – Foundation for the Medical University of Łódź.
Łódź is the third largest Polish city and the third largest urban center in Poland with a population of over 701,000. Lodz is located in central Poland which makes getting to the city very easy. The city can be reached by plane, train, or bus. Łódź is also very well connected with Warsaw – the capital city of Poland.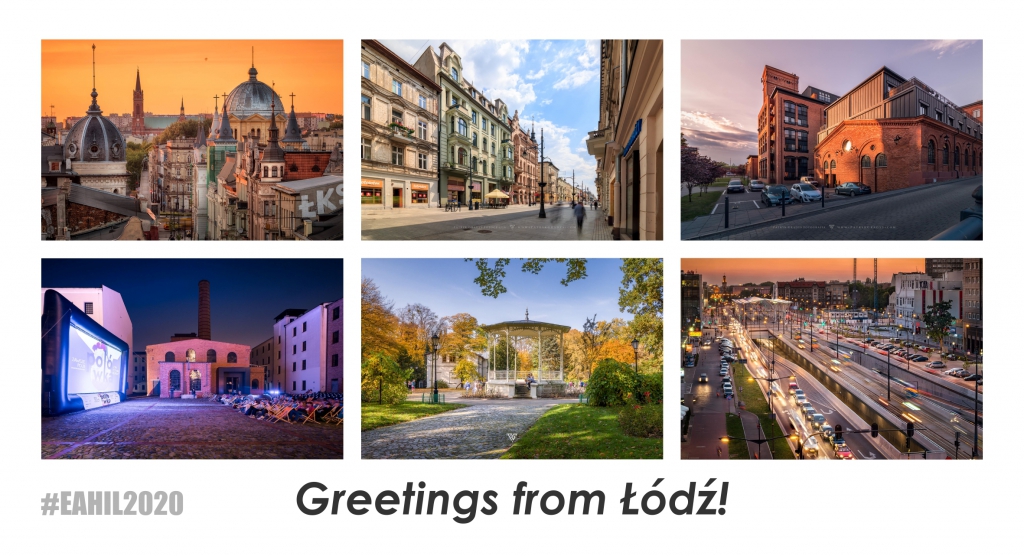 Postcard photos used with kind permission of Patryk Grądys, www.patrykgradys.com
Łódź features one of the most beautiful streets in Poland. Piotrkowska is the representative street of the city and one of the longest shopping streets in Europe, approximately 4.2 km long. Piotrkowska is the only street in the country with a preserved complex of the original 19th-century urban development, which consists of objects erected in the style of historicism, eclecticism or fanciful secession. The uniqueness of the street can only be compared with the urban complex of Vienna. Due to its unique architecture, Piotrkowska Street has been entered in its entirety in the register of monuments. There are tenement houses, palaces and factory villas, churches and monuments, stunning courtyards and squares with unique architecture, objects related to film, culture, and science.
Łódź is sometimes known as the Polish Manchester due to its size and the fame of the textile industry that developed there in the 19th century and has a unique atmosphere. There are a lot of postindustrial buildings that were given a new life. For several years, the city has been carrying out a large-scale revitalization of the city, the largest project of which is a huge project called "Nowe Centrum Łodzi". It is one of the largest initiatives of this type in Poland.
Conference dates and themes will be published in due course – we will be sure to announce them widely.
Hope to see you in Łódź in 2020!